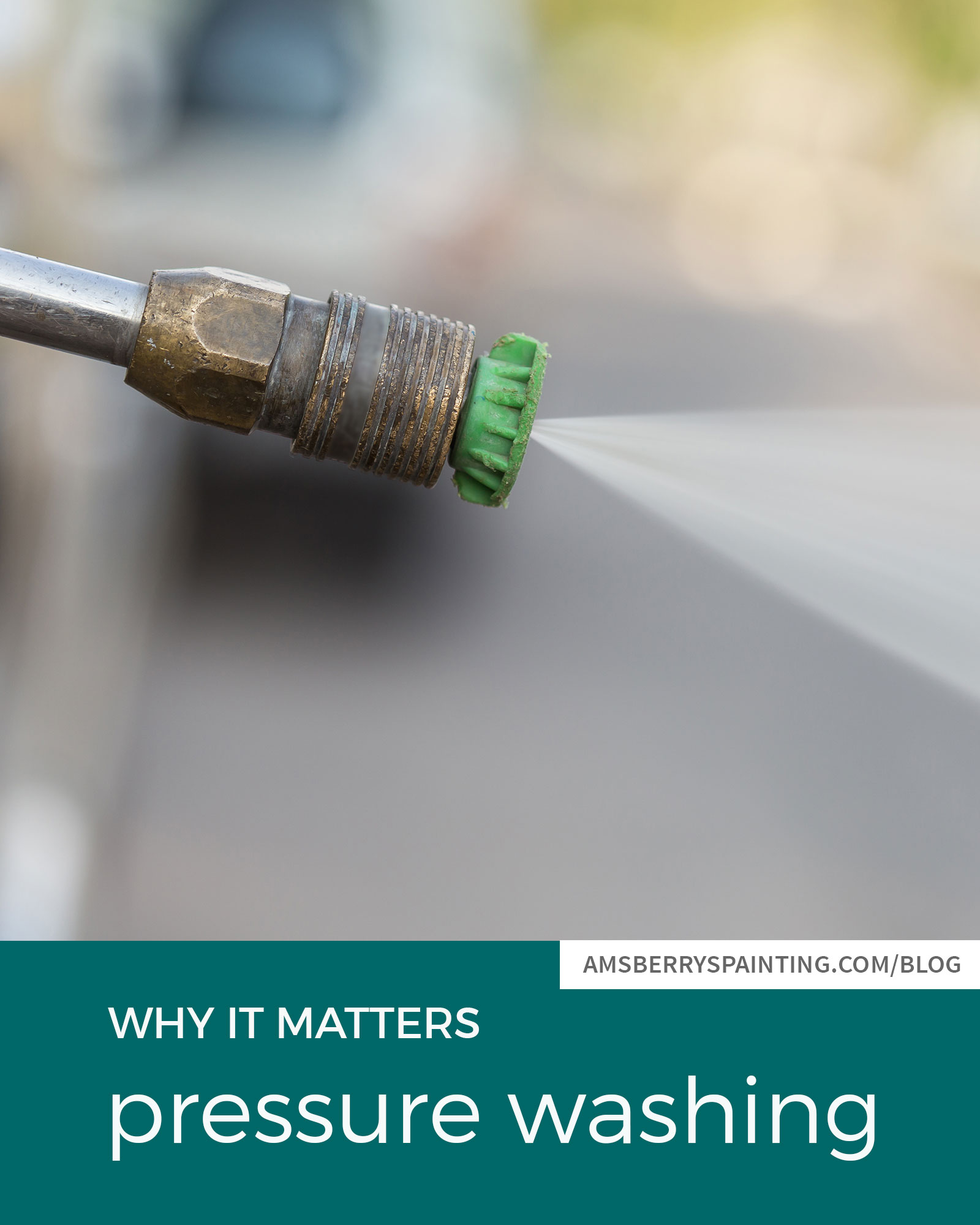 22 Apr

Pressure Washing: Why It Matters

When you call our office at Amsberry's Painting to schedule an exterior paint job, the first question that is asked is not the one you'd expect: "Great! When can we start painting?", nor is it "Do you have your colors picked out yet?". Rather, the first question asked is one that is a little bit lesser known to the world outside of painting. "Great! When would you like us to schedule your pressure wash?"

What a lot of us aren't aware of is how important pressure washes are. In fact, before I started working at Amsberry's Painting, I didn't even know what a pressure wash was. Furthermore, a good pressure wash requires not just the right number of people and the right equipment, but it requires precision. Much like the actual painting itself, a pressure wash is really easy to do the wrong way.
The Purpose
But what is a pressure wash? What's the big deal? As you probably know, your home can get really dirty over time. The exterior of your house is exposed to all the elements year round. Here in Washington State, our buildings are subject to all kinds of dirt, moss, and mildew. It's the job of a pressure wash to get all of that off your building. Pressure washing isn't just a prerequisite to painting, rather, it's an important all-around cleaning process for a building because it brings new life back into old exteriors.
It's especially important to pressure wash before painting due to the fact that things like dirt, moss, and mildew can be dangerous for your paint job. Dirt and moss prevent the paint from adhering well, while mold can eventually cause bubbling in the paint.
The pressure wash takes care of those mold spores before they can have a permanent effect on the exterior of your home. This is done using a low-concentrated bleach and water solution which is then sprayed off with high-pressure water that washes away not only the bleach solution but the mold spores.
All in all, pressure washing is an incredibly important part of the care and maintenance of your home. It tackles an aspect of cleaning that a lot of us don't have the capacity to do ourselves.
The Art
Almost as important as knowing how and what to wash, however, is knowing what not to wash. That's where the experience and precision aspect of this comes in. Our two-man power wash team is fond of joking about how they can't just go "drench a house and call it good". Joking aside, they're absolutely right.
"Pressure washing in general happens on a really individualized basis," says Dane, the head of our Pressure Wash Team. "If a house has pine on the exterior, for example, we can't get that wet for any length of time. If water beads on that wood, it will leave a dark spot that we can never get rid of. When there's wood of any kind involved, we always err on the side of careful."
The More you Know
So how can you determine whether or not a painting company knows how to pressure wash your home with care? You can gauge a painting company's quality level by noting their level of expertise. Always ask questions of a paint company you are thinking of hiring in order to determine how knowledgeable they are about their field of work. Their pressure washing process should take into consideration the type of material your home exterior is made of.
Now you know a little more about pressure washing and about choosing a painting company that will do a thorough job at it. At Amsberry's Painting we pressure wash as a part of our painting preparation process. We also pressure wash driveways, walkways, decks, exteriors and outbuildings as stand-alone projects. A little pressure washing can go a long way. If you have any exterior or pressure washing needs we would be happy to serve you! Contact us today!
To see examples of our work take a look at our online gallery!
---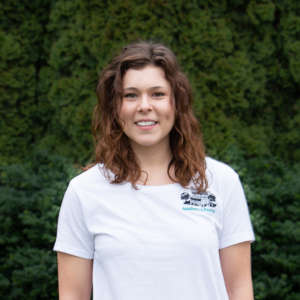 Writer Bio: Kaitlyn McAuliffe
Kaitlyn is the Marketing & HR Director at Amsberry's Painting. She has been working at Amsberry's Painting since 2011 in many different capacities, including out in the field and as the Office Manager. She loves spending time with family and hiking in the beautiful PNW! 
Was this helpful? Click on the graphics below to check out more of our blog posts!
Save
Save
Save
Save
Save
Save