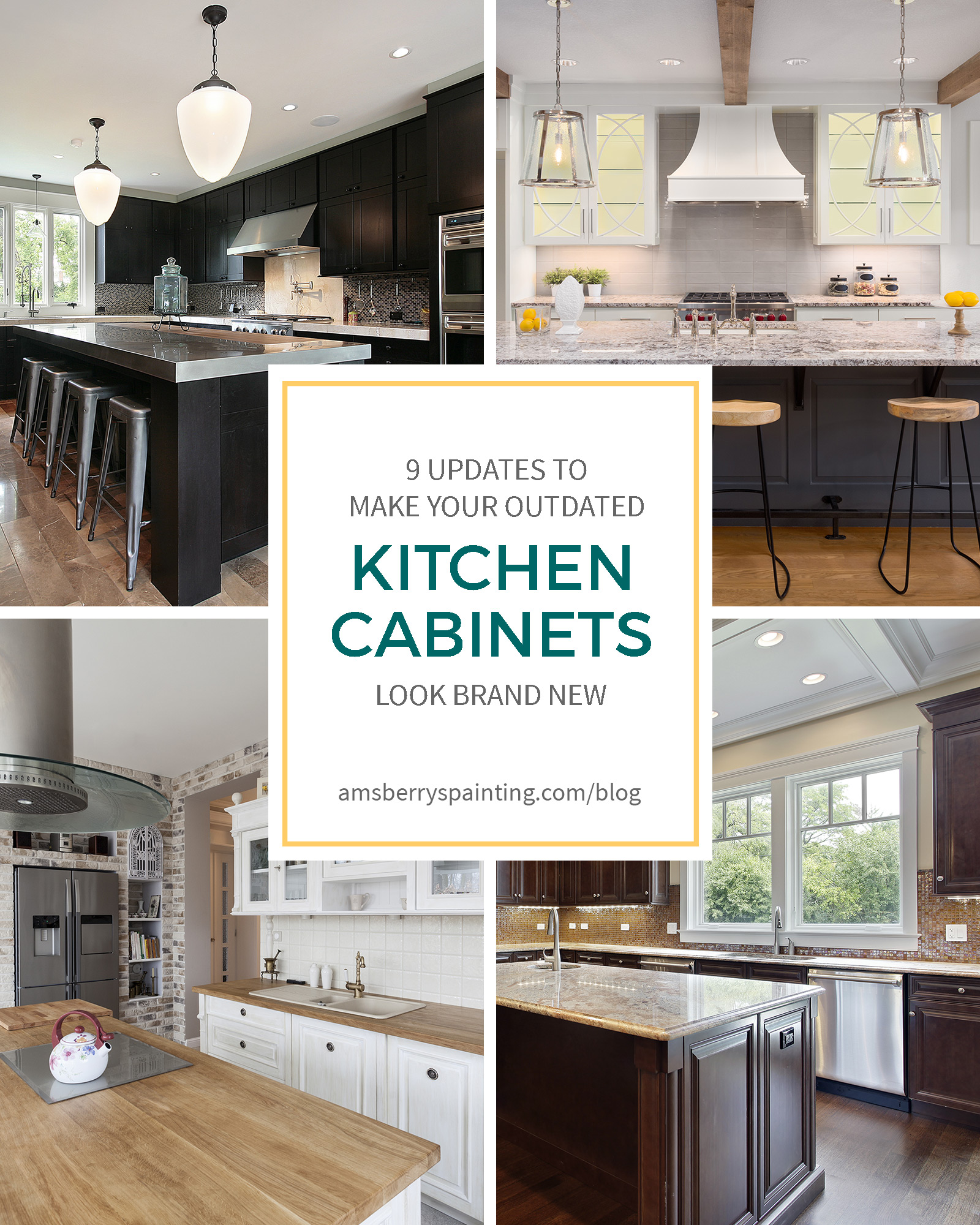 03 Oct

9 Upgrades to Make Your Outdated Kitchen Cabinets Look Brand New

Kitchens are the heart of a home. They are a place where we spend time preparing food and where we gather and share life together. When you host, your guests will not likely see your bedroom, but will definitely spend time in your kitchen. Kitchen cabinets are a huge, if not the biggest décor statements in a kitchen. If your kitchen is outdated and in need of an upgrade this is a post for you!

A kitchen reno can mean major demolition and all new cabinetry, or it can be made less invasive, and often less expensive, by refinishing the cabinetry you already have! In this blog post we'll explore the hottest trends in kitchen cabinetry that can be achieved by refinishing your current cabinetry. Those light wood cabinets you have don't have to be the end of your story. There is more for you!!

White
White kitchen cabinets are what dreams are made of. Well, maybe just my dreams… White reflects light around a room, causing the space to feel bright and airy. White also feels clean and crisp and creates a sleek look. Painting cabinets white can help make a small kitchen look bigger, which can be a big perk for some of us! By far, white is THE MOST popular kitchen cabinet color trend right now. White cabinets are littered all over Pinterest and home décor magazines. Many of our clients have asked for shades of white for their cabinetry. You can view their finished projects in our gallery.
Grey
Talk about a hot neutral! Grey is where it's at. Grey is a so popular because it is a neutral that is warm, relaxing, and not to mention… classic! It's a free-for-all when it comes to shades of grey, so ahead and pick anything from a blue-grey to a greige (gray + beige). Greige, btw, is HUGE! You'll see a lot of this grey tone when you're scrolling through blogs and Pinterest.
Different shades of grey give a kitchen a different feel. A light grey gives a similar feel as white and brightens up a space. A darker shade of grey brings drama and even more warmth.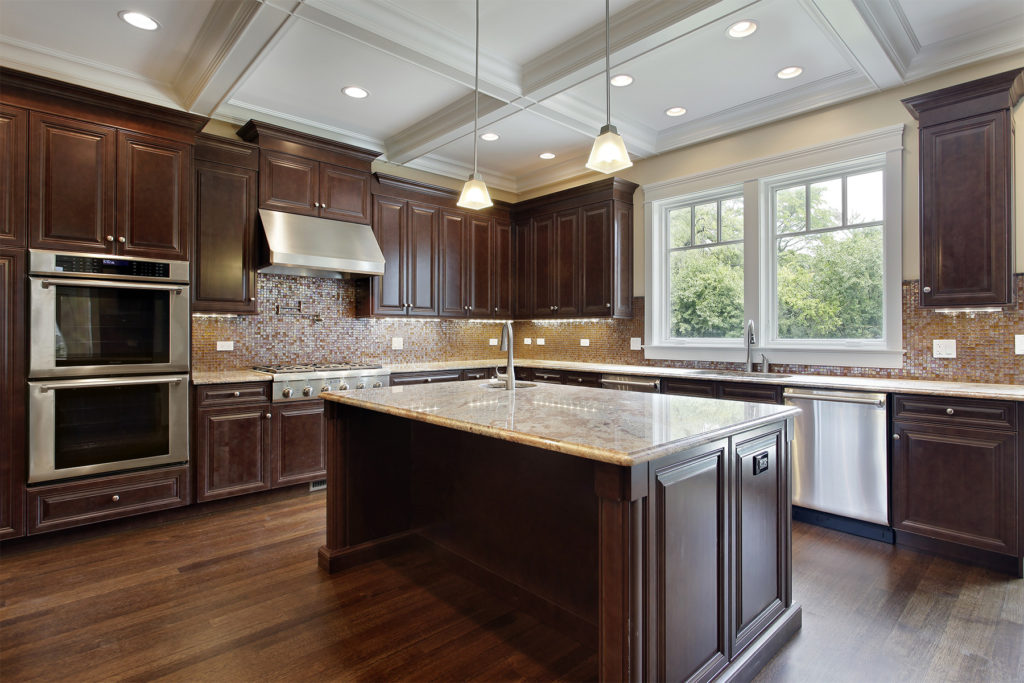 Stain
Another way to refinish your cabinets is to leave the wood grain showing but change up the stain. There are a lot of options to choose from, from warm browns to dark tones to weathered grey. The choice is really up to you! Consider the other wood tones in your kitchen and how well they will go with the stain color you are considering. For some inspiration, check out our Pinterest board dedicated solely to stained kitchen cabinetry!
Dark Vibes
Going ultra-dark makes a big statement. It says, "I'm not afraid to go BOLD, like really BOLD". If you go with dark vibes send me photos because… I personally LOVE this look! Dark cabinets are moody and unexpected. The most popular colors to do this with are black, dark green and dark blue. I'm totally digging the dark green kitchen cabinets in this YouTube home tour by one of my favorite interior design companies, Studio McGee. This style is moving in. We are seeing it more and more! Pictured here is a kitchen rocking the all black everything look.
Pop of Color
Another trend is bringing in a major color pop to your kitchen by painting all your cabinets a bright color. What better way to liven up a room than to really make your cabinets stand out? Popular colors are shades of blue, green, and beige, but don't let that box you in. If you are a lover of bright colors, go for something unpredictable! What's your favorite color? Is it a cheerful yellow? It is your kitchen after all, so make it a place you love!
Two-Toned
So this trend is super fun and spunky! If you want to have it all, a two-toned cabinet look may be the thing for you. The trend is to have your upper level cabinetry painted white, or a light color, and the lower cabinets a darker color. The most popular colors are shades of grey, blue and green. We've also seen some people paint their upper cabinets white and go super bold on their lower cabinets with black or stain their lower cabinets with a dark stain. The two-toned kitchen cabinet look is growing in popularity, so expect to see more of it in the future!
Distressed
This look is most often seen in rustic and farmhouse style kitchens. The distressed cabinet trend is very country-chic and oh so pretty! You could go with a white or cream to incorporate a light airy feel with a weathered twist, or you could choose literally any other color you'd like! You have free reign in this domain because all colors work with this look. The distressed look sends off a lived-in feel that makes home feel like just that – home.
Island
Guess what? When it comes to your kitchen island you can have your cake and eat it too! If you've been reading along and have been drawn to both the white cabinets and also the colored, or dark, or stained cabinets you are in luck. It is totally acceptable, and totally cool, to have a different finish on your kitchen island than you do on your perimeter cabinets. Let's just take a moment to enjoy this.
[Eeeeeeek!!!]
Okay, let's dive back in. Since an island is more like a piece of furniture anyway, it is an easy mental jump for people to want to play it up. Making a statement with your island adds a punch of personality to your kitchen. It is popular to stain kitchen islands and have the rest of your cabinetry painted or to opt for a painted color. The cool colors on the block are black, navy, and chocolate brown.
Hardware
No discussion of kitchen cabinets is complete without touching on hardware. Right now, simple angled hardware is where it's at! Silver and antiqued bronze are the most popular metal colors, with gold being used more and more frequently.
So there you have it! Hopefully this post caused you to dream about the possibilities for refinishing your cabinetry. Let us know if we can help! We do all the forms of cabinet refinishing I listed above (with the exception of installing hardware – better left to a finish carpenter). You can check out some of our work by viewing our online gallery.
Take a peak at our Painted Kitchen Cabinet Pinterest board if you can handle another dose of inspiration. Caution: Viewing may cause your heart to beat faster!
---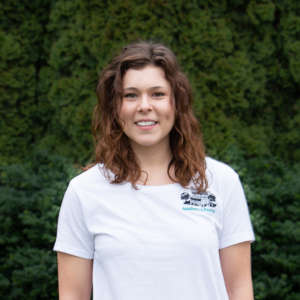 Writer Bio: Kaitlyn McAuliffe
Kaitlyn is the Marketing & HR Director at Amsberry's Painting. She has been working at Amsberry's Painting since 2011 in many different capacities, including out in the field and as the Office Manager. She loves spending time with family and hiking in the beautiful PNW! 
Click on the images below for more great content!