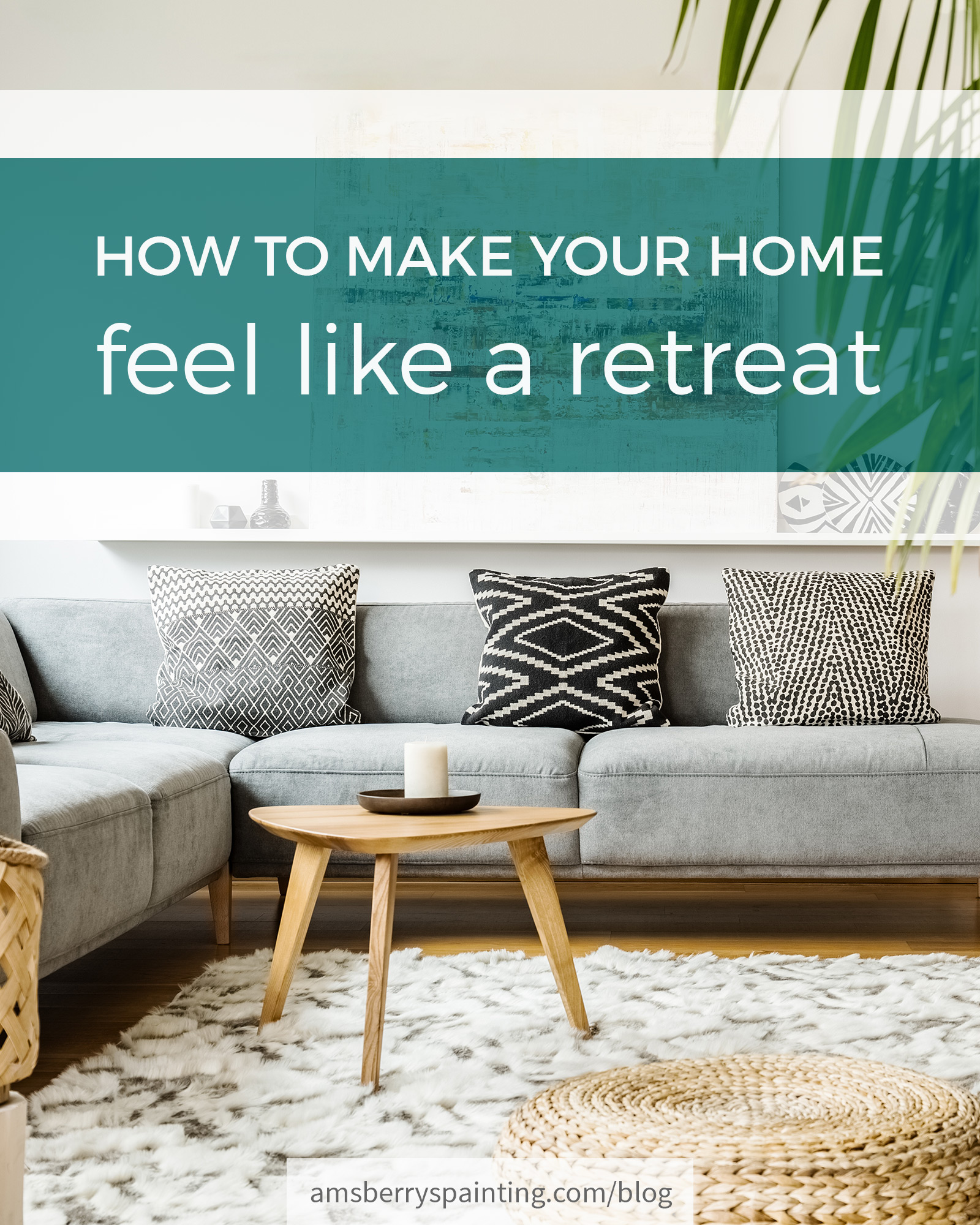 22 Nov

How to Make your Home Feel Like a Retreat

In a world where the demands of life press on us from all sides, home is meant to be a solace. A retreat, an escape from the rest of the world. It's more than a place of residence, it's a place to seek comfort and community with those you love.

The truth of the matter is that our homes don't always make us feel less stressed than the outside world. More often than not, our houses can either feel too messy or too sterile for us to properly unwind. Between the two extremes, the majority of people will say that the space in which they spend the most time neither reflects their personality nor distinctly helps them de-stress after a long day.

Science proves that a person's mood is largely affected by what their senses take in (that's why massages and certain aromas are calming while harsh smells and loud noises aren't!). As the most prominent sense, sight fits into the exact same category. When the colors in a room are all over the color wheel and too many statement colors are present, it can be distracting to the eye, causing the brain to be unconsciously overwhelmed by the perceived chaos happening in the room. On the other hand, when the colors in a room are cohesive and blend together well, the mind is soothed by the fact that there aren't quite as many different aspects to digest, allowing it to focus inwardly.
WAYS TO MAKE YOUR HOME FEEL LIKE A RETREAT
Repaint a room – A fresh start for your interior walls can be a great way to make your home feel more relaxed. Renewing old spaces that you've grown accustomed to is a large part of the internal rejuvenation process. Below are a few calming colors:
– Pastels: Yellow, Lavender, Green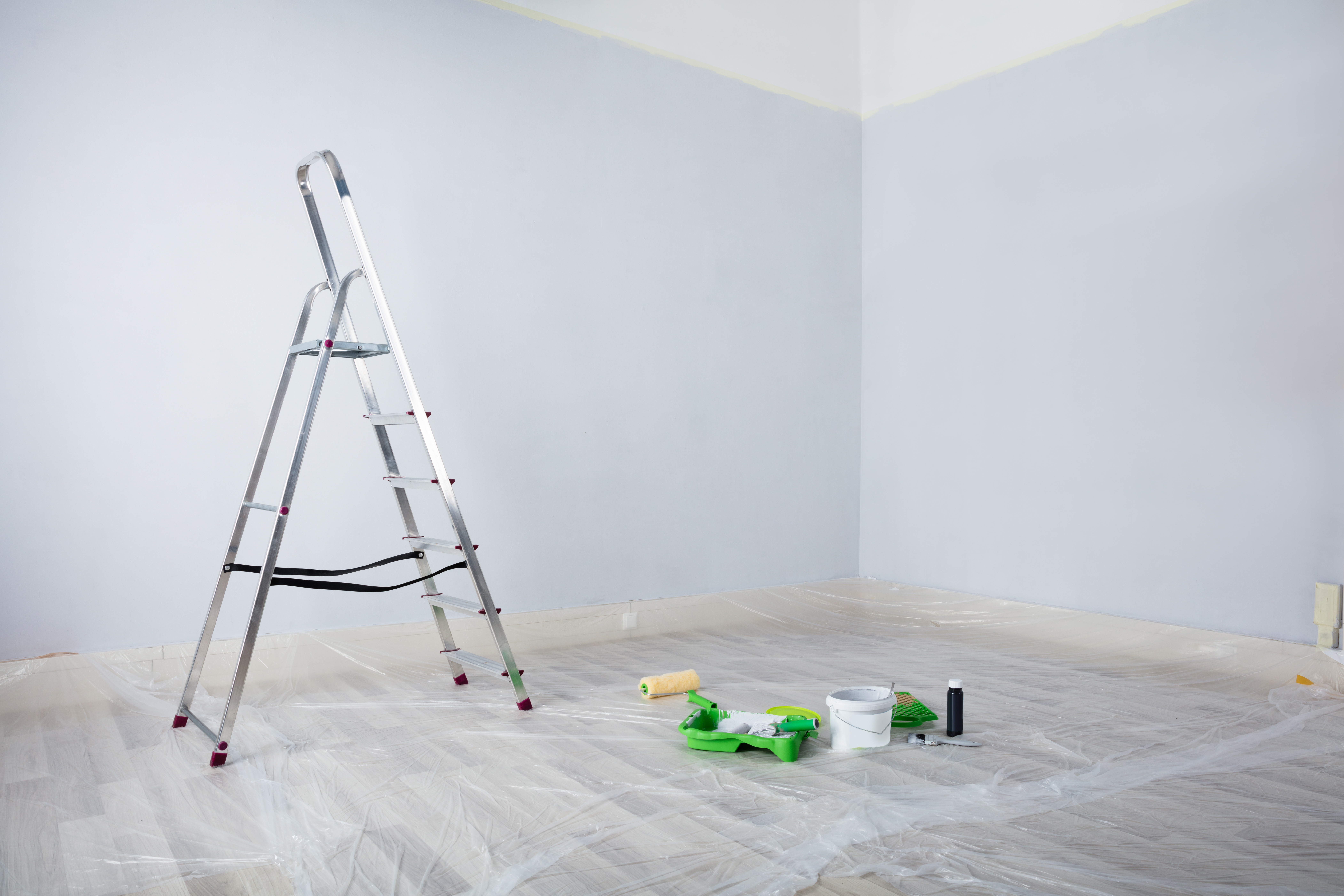 Choose a cohesive color scheme – Now that you have the clean slate provided by your freshly painted walls, try to bring it out in the rest of the room. Not everything needs to be the same color, but if you stick with two or three neutral tones that go well with your wall color, it'll present a less challenging color scheme than having contradicting colors conflicting in a room.
HOW TO ACHIEVE A RELAXING COLOR SCHEME
Keep your accents subtle – A soft combination of white and blue is very pleasing to the eye, while the same white paired with deep purple can make a very stark statement. While the deeper purple is beautiful, it may not be what you're looking for in a calming environment.
Use favorite colors – If you haven't stopped loving orange or teal since you were ten years old, there are still ways to incorporate bold colors into a relaxing setting! Just be sure to pair it with a soft white or grey to even out the statement.
De-clutter – Remodeling or repainting is a great time to reevaluate the number of possessions in a living space. Even if you're not making any renovations, getting rid of the items in your home that have overstayed their welcome can be a huge contributor to stress relief and making any room a place where you can truly relax.
Turning your home into an environment that is calming to the eye doesn't mean that you have to go all-white-everything and sell all your belongings to become a  minimalist. All you really need is a good knowledge of your color palette and a few simple tasks.
SMALL WAYS TO MAKE YOUR HOME FEEL LIKE A RETREAT
Introduce small pops of color – Keeping things cohesive doesn't mean you can't have a little fun! Adding little elements of color to your tidy, well-lit space won't distract from the overall feeling of calm. Consider throw pillows, favorite photos, pieces of art, or tasteful patterns.
Add in house plants – House plants are a popular decorating trend right now also bring tranquility to a space. Bonus, they also refresh the air in your home by absorbing carbon dioxide and release oxygen!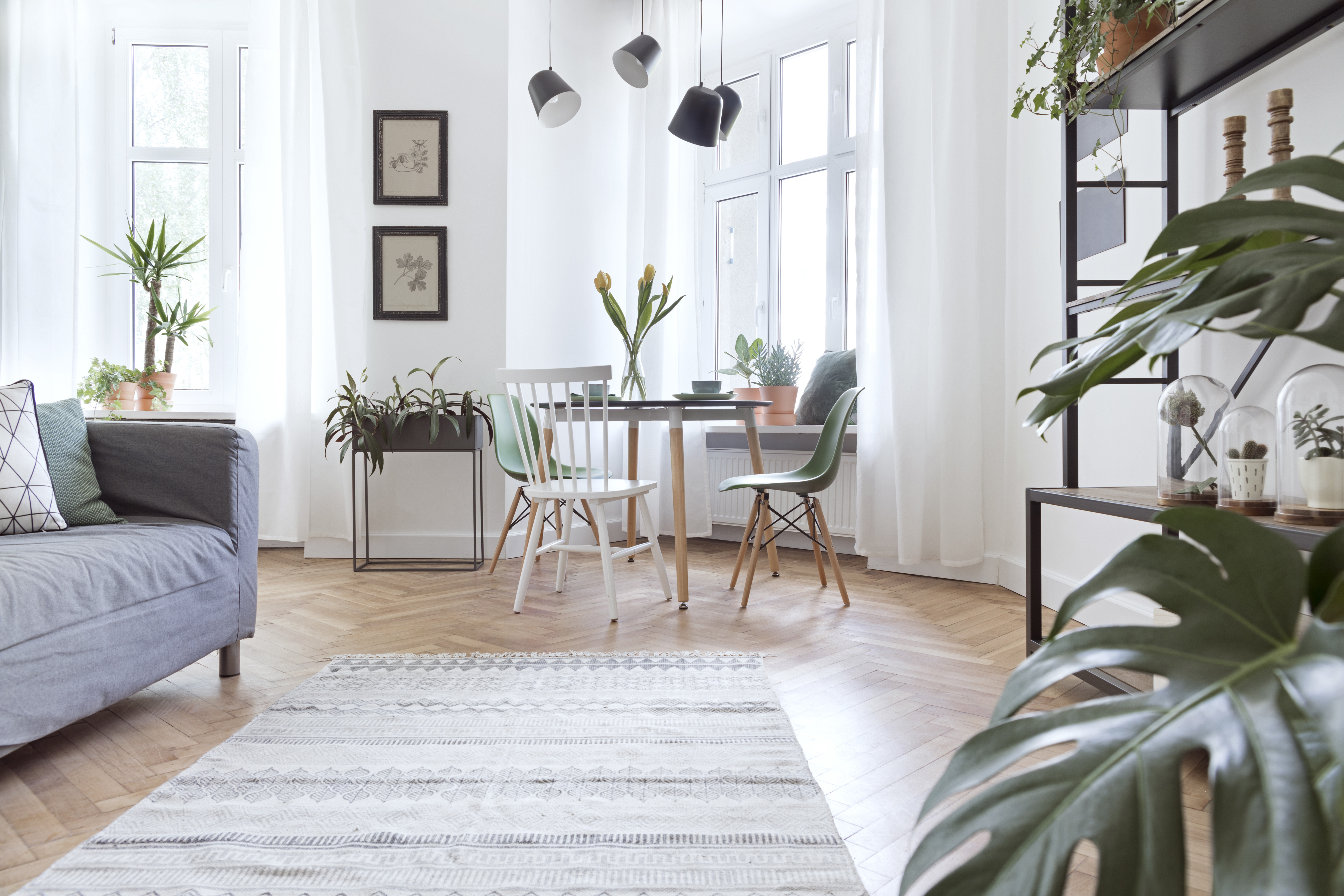 Keep your space tidy – cleanliness is key to maintaining stress relief! If your counter tops and bookshelves are cluttered, take some time to dust and replace only choice items, leaving plenty of empty space.
Play with texture – When all your colors match, a great way to mix things up without changing your color palette is to differ textures throughout the room. Shiplap has become a big deal in the interior design world recently, and for good reason – it adds a bit of texture that contrasts nicely with fabric, wood, and other "average" silhouettes.
Let the light in – Natural light is good for your body (and soul!). Something as simple as opening your blinds or switching out your thick curtains for thin or opaque ones will brighten not only your room, but will boost your visual stimulation and emotional health.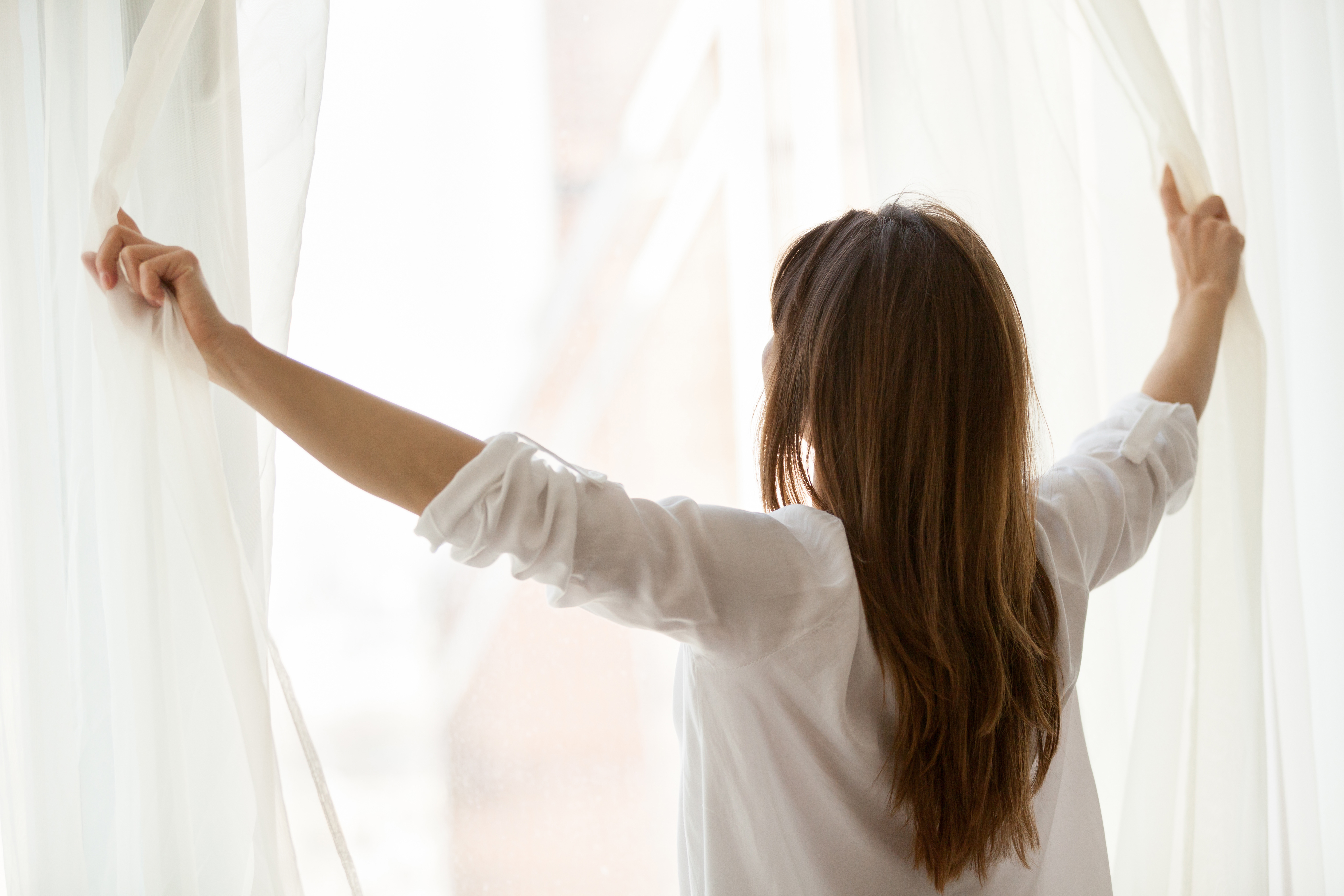 Create an inviting atmosphere – To avoid the feeling of your home being too sterile and clean for you to properly live in, make it yours. Burn candles, leave books out, have freedom in your design of the room. This can be done especially through artwork, photos, and other forms of self-expression. An important part of making your home feel relaxing is letting it feel lived in.
All things considered, home is what you make it. Your home is the place you spend your best moments with the people you love most in the world. It should reflect the aspects of you and your family that go beyond surface level.
Here at Amsberry's Painting we are committed to delivering quality service with beautiful results. Click here to schedule a free painting estimate!
---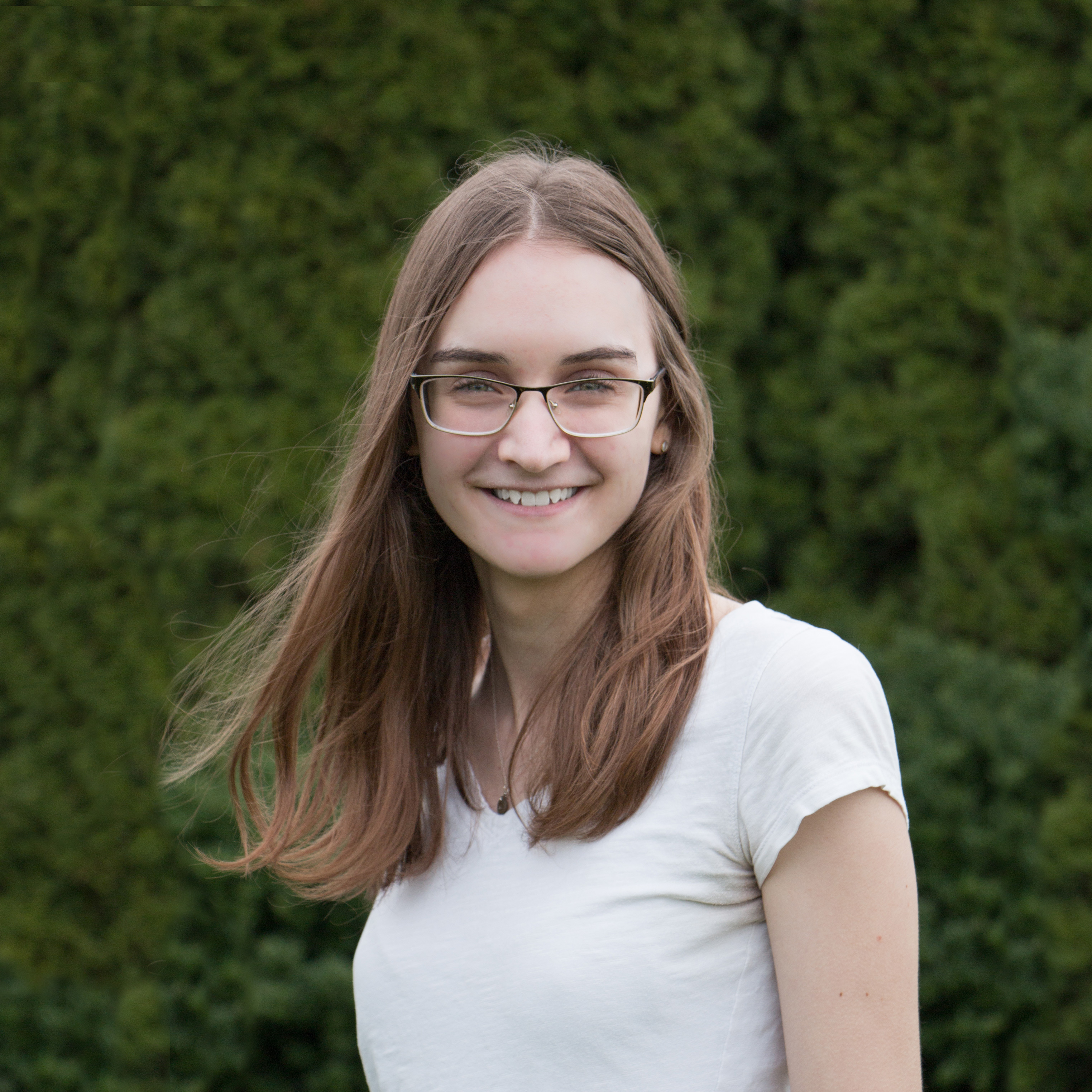 Writer Bio: Ellen Coy
Ellen is the Office Assistant, and resident blogger, at Amsberry's Painting. She loves reading, writing, photography, and The Pacific Northwest. She can usually be found with a cup of tea.