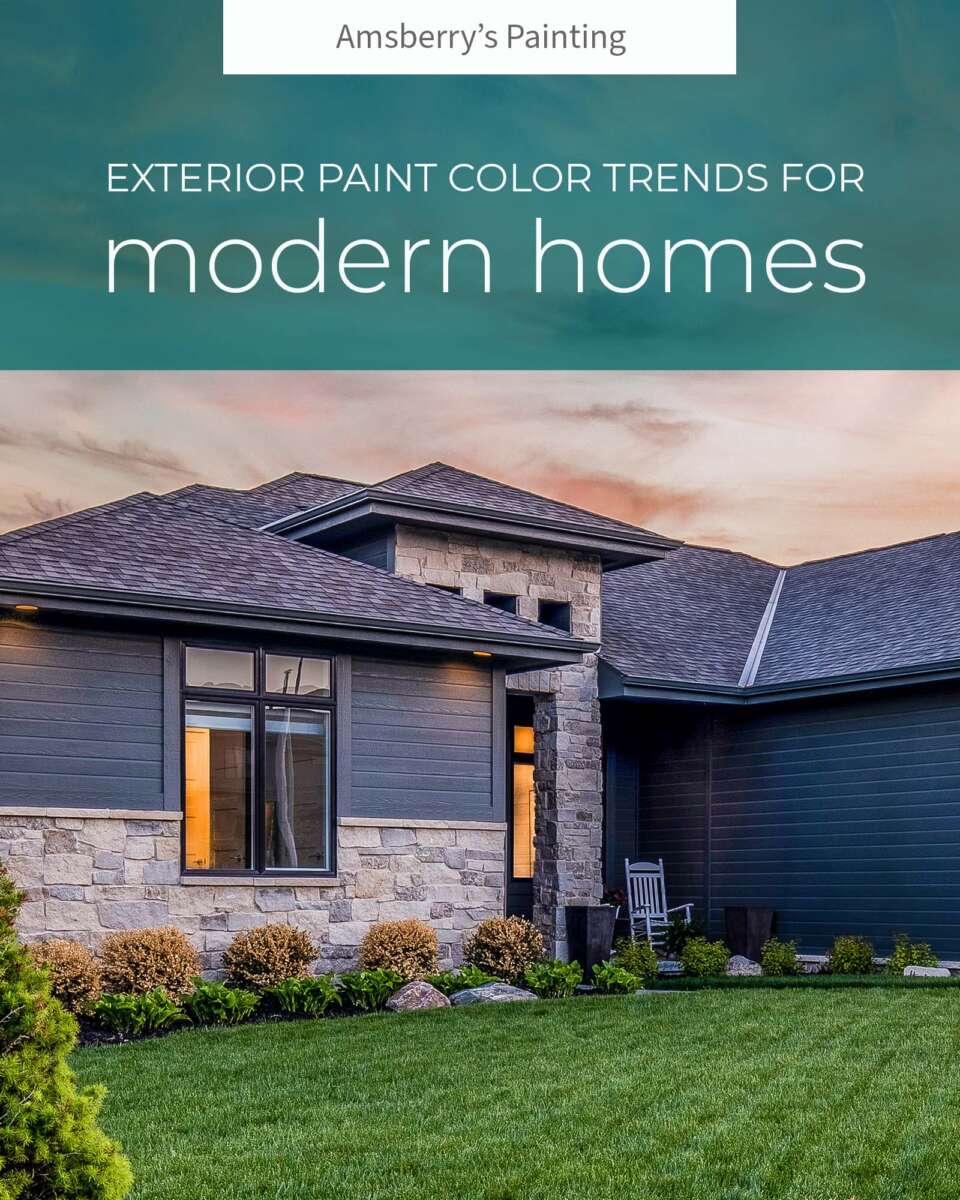 08 Jul

Exterior Paint Color Trends for Modern Homes

When it comes to modernizing the exterior of your home, one of the most important aspects to consider is the paint color. The color of your home can have a significant impact on its curb appeal, making it crucial to choose a modern and stylish color scheme. To help you get started, we've compiled a list of the top exterior paint color trends for modern homes in 2023. Whether you're planning a complete renovation or simply want to update the look of your home by painting your exterior, these colors are sure to turn heads!

Keep in mind as you consider color options what fixed elements are already in place on and around your home exterior. For instance, is there stone on your home, clear coated wood beams, stained shingles? Consider your roof color and the landscaping surrounding your home. You want to make sure you select colors that compliment the fixed elements and don't clash.
SAGE GREEN: ORGANIC TONE
Sage green is a trending color choice for exteriors thanks to its versatility and timelessness. This organic hue is relaxing and calming yet still vibrant enough to make a statement. Sage green pairs well with other earthy tones such as taupes, browns, and even black. A beautiful choice is Evergreen Fog SW 9130, which was named Sherwin Williams' color of the year in 2022, and is a soothing greenish grey color. If you'd prefer a bolder hue, Retreat SW 6207 is a darker shade of sage green also offered by Sherwin Williams.

WHITE: CLASSIC PAINT COLOR
White is a classic color that will never go out of style. It's a popular choice for modern homes because it creates a clean and sophisticated look. A black and white color scheme, or white trim on a home exterior with any of the other colors included in this list is sure to impress. Some of our favorite Sherwin Williams whites are: Snowbound SW 7004, Extra White SW 7006 and Alabaster SW 7008. As white colors are particularly plentiful, you can mock up your home exterior using Sherwin Williams' ColorSnap® Visualizer tool or order samples of whites you like and paint small areas of your home to aid you in your color selection process.
CHARCOAL GREY: CONTEMPORARY EXTERIOR
A darker grey can be extremely modern and elegant, especially when paired with a crisp white trim and a modern home design. Charcoal grey is a popular choice in 2023 for exteriors of contemporary homes as it gives off an impression of sleek sophistication. Deep Space 2125-20 and Steel Wool 2121-20 are a couple of show-stopping charcoal greys by Benjamin Moore.
A word of caution: although super dark, almost black paint colors are gorgeous, we recommend you don't go too dark with your house body paint color. Siding on sun-facing sides of your home, when painted very dark colors, can fail over time, and really dark colors tend to fade faster. Something to be aware of since both of these scenarios would cost you extra money in the long run.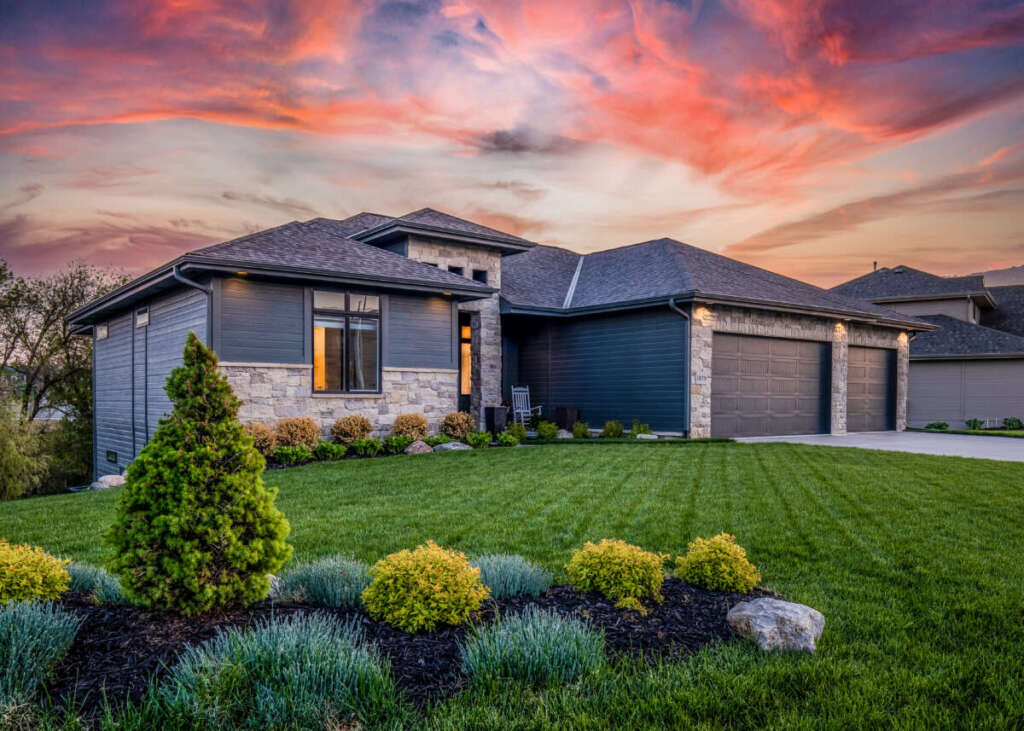 YELLOW: HAPPY HUE
Yellow is a bright and cheery hue that will instantly add a curb appeal to your home's exterior. It pairs well with dark greens, greys or blues for an interesting yet stylish look. A fun way to use yellow on the exterior of your home is by using it as a front door color! For this exterior painting project we used Brittlebrush SW 6684 for a pop of color against house body color Urbane Bronze SW 7048, accented by Pure White SW 7005 trim.

PREPARED FOR PAINT COLOR SELECTION SUCCESS
Choosing the right exterior paint color can be overwhelming, but keeping up with the latest trends can help ensure that your home looks modern and stylish. The four colors listed above are sure to impress and make your home the envy of the neighborhood. Remember, it's important to choose a color that not only looks great but also complements the style and architecture of your home, along with surrounding fixed elements. Don't be afraid to experiment with different colors and create an eye-catching look that stands out from the rest. If you need assistance with your exterior painting we are here to help!
https://www.thespruce.com/exterior-house-paint-colors-1821994